Love in Action at Lake Chapala, Mexico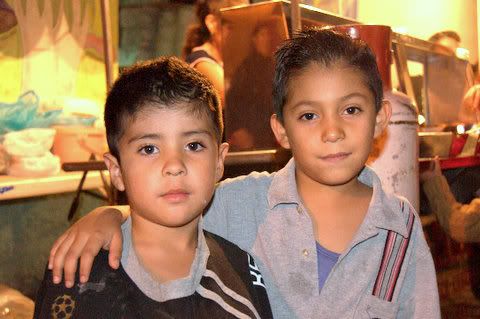 LOVE IN ACTION CENTER

NEWSLETTER: JANUARY 2011

The Healing Power of Horses:
5th Annual Equestrian

Extravaganza
[by
Donna Vernet our new Public Relations Associate in January's Lake Chapala Review]
Rose had just come to the

Love in Action

children's shelter. Her hands were severely burned, a cruel punishment from an abusive relative. She cried when she first encountered the Pasos Miligrosos equine therapy. Angelica has

cerebral palsy

with

motor coordination problems

. But she quickly took to riding. Through the healing power of horses, Rose, Angelica and other kids at Love in Action are now riding with confidence on their own, helping to overcome their physical difficulties.
You, too, can experience the equine thrill and support a good cause. Saturday, January 22nd, marks the 5th Annual Equestrian Extravaganza. Held on a beautiful private ranch just west of

Ajijic

village, this equestrian event features escaramuza (women sidesaddle riders), dancing horses, mariachis, Mexican food and libations. The show begins at 3:00 pm and, for 600 pesos, you'll be thoroughly entertained.
Tickets are on sale at the security booth at Love in Action complex in Chapala, at the Zavala Small Animal Clinic in Ajijic (call

766-1604

, behind Ajijic Clinic) or from Weezie and Jim Burgess (call

766-2830

). Tickets can be delivered. Tables for 10 persons are available and are $6000 pesos. The show has sold out every year so order tickets now. Get your friends together, have a fun afternoon in the country, and support Love in Action.
Christmas Party Thanks and Kudos:

First of all, Love in Action wishes to thank all the businesses and private individuals who showed their

Christmas spirit

this year by support of the Children's Shelter in Chapala.
Thanks to the sponsors and all who attended the Christmas Party at Bonnie and Ted Newman's beautiful home in Ajijic on December 13. With the 1000 peso charge and having all expenses donated, the party raised over $180,000 pesos to help feed and house the children at the Center.
Thanks to Marta and Javier at La Bodega Restaurant who sponsored an evening on December 1st to support three local charities including Love in Action. Attendees brought a gift for a child. Javier then presented $13, 600.00 pesos to Love in Action as their portion of the proceeds.
And thanks again to Walmart who hosted their second annual p

osada for the children in the store on December 13. Sandwiches, cake and treats were served to all the kids attending. Then each child received a personal present purchased by Walmart employees who had chosen "their" child.
Thanks to all the staff, volunteers, godparents, and donors who helped support two

Christmas Eve parties

for Love in Action. Friday morning the Love in Action Community Support Center in Tepehua held a Christmas fiesta for over 200 local residents in need. And children at the Love in Action Center on Pedro Moreno were treated to a

Christmas Eve

Posada with piñatas, dinner and Santa with gifts for all.
Those who made Christmas donations include: Delayne Giardini for pillows, gift cards and cookies for the children; the Wolf family (Lise, Eleonor and Elyssa) for the "special food" packages and homemade cookies for the children; Acciòn Voluntaria Group for bicycles, new clothes, toys, shoes and piñatas for the children; Liliana Cortes for hand made scarves and piñatas for Dìa deLlos Reyes; Caroline Simpson for lots of goodies for the children; and Sydney for the three Christmas paintings that she painted for the children at the Center. Thanks to the Grinch Team: Weezie Burgess, Marti McBride, Marcia Lavender & Santa Larry Lavender, Shelly Sunderland and Jan Quarton for their work putting it all together. Thanks to Pamela Richardson and Gail Le Blanc's group who provided the

Christmas Day Dinner

. And thanks to so many other people who also donated candy, food, clothing and toys, but whose names we missed.
Thanks to the Ajijic Rotary Club for the material to build bunk beds for the children and to Hope House for having their young men from their carpentry shop make them. Thanks also to Steve and Fernando of the Casa Flores Boutique Bed and Breakfast of pillows and mattresses. And thanks to Margaret & William Flurry for their donation of four mattresses.
Three Kings Day

Piggy Banks: Thanks to EVERYONE who filled a piggy bank or two for the Three Kings Day celebration. We collected 66 banks and the "take" was over 20,000 pesos ($1650 US) and will be used for treats directly to the kids! (spending money for the older ones and ice cream cones etc for the small ones)
Also thanks to some local B&Bs who kept pigs in their lobbies and asked guests for change Ajijic Suites, Adobe Walls, Casa del Sol, Casa de las Flores, La Paloma & Quinta del Sol. I will bring you copies of pictures for display.
Special thanks to the THREE KINGS, Allan, Chisholm and Michael. More special thanks to the folks who paid for the pizzas – Ginger, Margaret L and Patteye. And my personal special thanks to Marty and Jerry who stayed late with me and helped count the take – a dirty job!
If you haven't gotten a pig for next year yet or have a friend who might want one, let me know. Eleanor Feeney at

(376) 766-0926

or

Eleanor@QuintaDelSolAjijic.com
Gift Card Project: A new fund-raising project was begun just in time for Christmas. Photos of both a group of the Center's children and the children at the Metin art event were printed up together with a description of the Center's mission.

The cards at 100 pesos each were used first as Christmas gifts, but also can be used anytime as house gifts and indicate that a donation was made to Love in Action. To obtain gift cards, contact Bonnie Newman at

766-0963

bonniemck@gmail.com
Love in Action Needs Assessment: During the month of February LiA will be providing a needs assessment to the community. The LiA Board of Directors wants to encourage past and current volunteers to take a few minutes to fill out the assessment beginning February 1st. The information from the needs assessment will allow the board to set priorities, provide guidelines for current needs, as well as, give direction to the directors for the next few years of work.
Progress Report for LiA Community Service Center at Tepehua: The

original Love in Action

Center in Tepehua has now become the Love in Action Community Service Center serving the Tepehua barrio in Chapala. Early donations allowed building renovations to begin late in the year and other than a few cosmetic improvements, were completed by

Christmas

well under the original cost estimate. A Soup Kitchen was begun in October and by Christmas was serving over 200. Food and staff has all been donated for one meal per week, and hopefully will be expanded to two meals as soon as donations allow.
Registration for the whole family is now essential if the Center is able to help get these children into the school system, and get mothers the help they need. The necessary office and computer equipment has already been donated to automate this registration process and assist in the organization of the Center. Center Administrator, Stasia Neilson, will coordinate this work.
The Center has been approved for a grant of $13,000 US dollars from the Rotary Club to put in solar water heating; water purification system and garden project. Once completed, the Center will be able to install a Bath House for the women and children who are registered, for soap and hot showers year round. Also, when the garden systems are set up, using the grey water as irrigation, we can train people how to grow their own gardens in very small spaces…empty lots and on roof tops.
Once neighborhood kids are clean and clothed, the Center will help get them into the school system. For those who cannot be enrolled, the Center perhaps will be able to set up a pre-ed classroom in the Tepehua building. By the time the Center is ready to accept teen boys, two years down the road, the facility will be ready to receive and train them for the world outside.
The LIA Newsletter is published each month by Robin Lawrason, Press Relations for the Center. The Newsletter is also published and updated as needed throughout the month on the Love in Action Center Website under "News" at

http://loveinactioncenter.org

If you have LiA news items you would like to include or names to add to our Mailing List, or would like to be removed from the list, contact Robin at

jim2rob@gmail.com