Save the Planet & Save Money at Lake Chapala, Mexico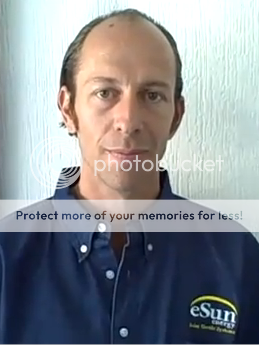 I've always been fascinated with using the sun to produce electrical energy.
Before I moved to Lake Chapala in Mexico, I lived in rural East Texas and had a Guest Cottage next to my home which I converted to solar electric energy. This was back in late 1999. The system worked well and I could switch back and forth from the rural electric grid to the solar panel, but it was not all peaches and cream.
My system used a series of deep cycle batteries to store the electricity created which meant a significant amount of extra work (as I had to monitor all the batteries and be sure the battery area was well vented) and it took up a significant amount of storage space to house the bank of batteries.
A few months ago I noticed JSun's place in San Antonio, Tlayacapan, just East of the new Walmart, and I went in to have a look. I met JSun and he gave me a demonstration of a working system right in his office. To say I was impressed would be an understatement. So I persuaded JSun to let me come back and film him demonstrating the actual working system in his office so I could share it with you.
Most people here don't have huge electric bills because they just don't use much electricity. Here in Mexico the more kilowatts you use the more you pay per kilowatt. This is their way of encouraging conservation, and as JSun pointed out, it looks like the costs per kilowatt will be going up even more in our future. So, as soon as I can swing it, I'm investing in a Solar Electric system by JSun. I want to watch that meter spin backwards resulting in lower bills, or perhaps even eliminating my electric bill completely.

Now, here's JSun demonstrating an actual working system:
eSun energy – www.esunenergy.com