Women's Panties and New Years Eve – What's the Connection at Lake Chapala?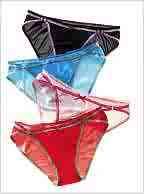 No, this article is not off color, but it does have to do a lot with color. In this case the color pf panties Mexican ladies wear on New Years Eve. Sort of  a "Sid's Believe It or Not"  post.
Please read on to see the connection.
A Strange, but True, New Years Tradition at Lake Chapala Ajijic, Mexico !
Did you know that many Mexican ladies believe the following:
If a Mexican lady wants to be assured of love she wears red panties on New Year's Eve.
If she wants a good job and financial health she wears Yellow ones.
If on the other hand she wants to have good health then she wears white ones
If she's looking for money in the new year then she wears GREEN ones.
The colors of flowers arranged in the home on New Year's eve is also a tradition to bring you what you hope for in the coming year.
Hope the New Year brings you and yours all the happiness you can handle.
Tu amigo, Sid